Fonda Receives The Outstanding FM Training Provider Award At SIFMA FMES 2022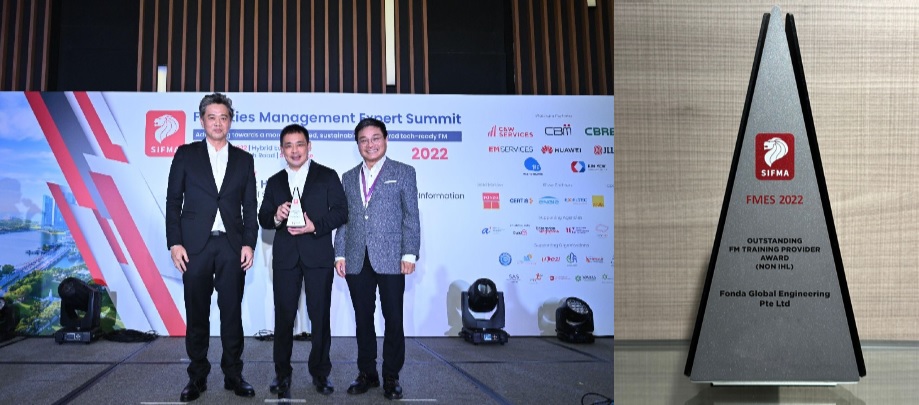 1 Dec 2022
Fonda Global Engineering Pte Ltd is proud to have attended the International Facility Management Association's (IFMA) Singapore Chapter's (SIFMA) inaugural Facility Management Expert Summit (FMES) 2022 held on the 1st of December this year. During the FMES 2022, multiple awards are given out to acknowledge and thank key FM players for advancing towards SIFMA's efforts of ensuring a future-ready FM sector in Singapore. Fonda is honoured to have received the Outstanding FM Training Provider Award during the summit.
The FMES Outstanding FM Training Provider of the Year recognises training institutes for their incredible contribution and exceptional training for the industry.
Fonda has a rich 23 years worth of experience in the Singapore training landscape. In 1999, Fonda had foresaw that the training industry would be one of the most important elements in the FM sector. Since then, Fonda has been paving the training journey towards two sectors, human hard skillsets and AI digital technologies. Reaching a total of 100,226 candidates from 2020-2022, we are well-trusted in the industry and have been appointed by various established authorities and institutions such as the Singapore Building and Construction Authority, Land Transport Authority, Skillsfuture Singapore and Pearson LLC to conduct skills training and have set up training centres both locally and internationally.